General Director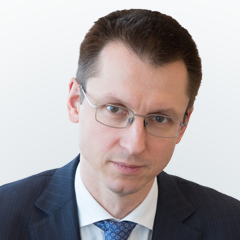 The management of FPC's day-to-day operations is delegated to the General Director as a sole executive body. The General Director acts as Chairman of the Company's Science and Technology Board, and also Chairman of the Board of the Heads of the Company's Branches.
The General Director is accountable to FPC's shareholders and the Board of Directors and submits quarterly reports to the Board on the Company's performance (budget performance, contract work performance, HR Policy, Credit Policy, social programmes, insurance coverage, implementation of the Board's resolutions).
The Board of Directors resolves on the election of the Company's General Director, termination of his/her powers, and approves terms of employment contract, including remuneration and termination.
The General Director is responsible for timely and quality budgeting and budget performance at the Company, preparing budget performance reports, and organising activities at the Company's branches.
On 25 January 2016, Petr Ivanov was nominated FPC's General Director for a three-year term by resolution of the Board of Directors.